959.54 acs. Wasco Almonds - Golden Bear
$14,632,985
Wasco, CA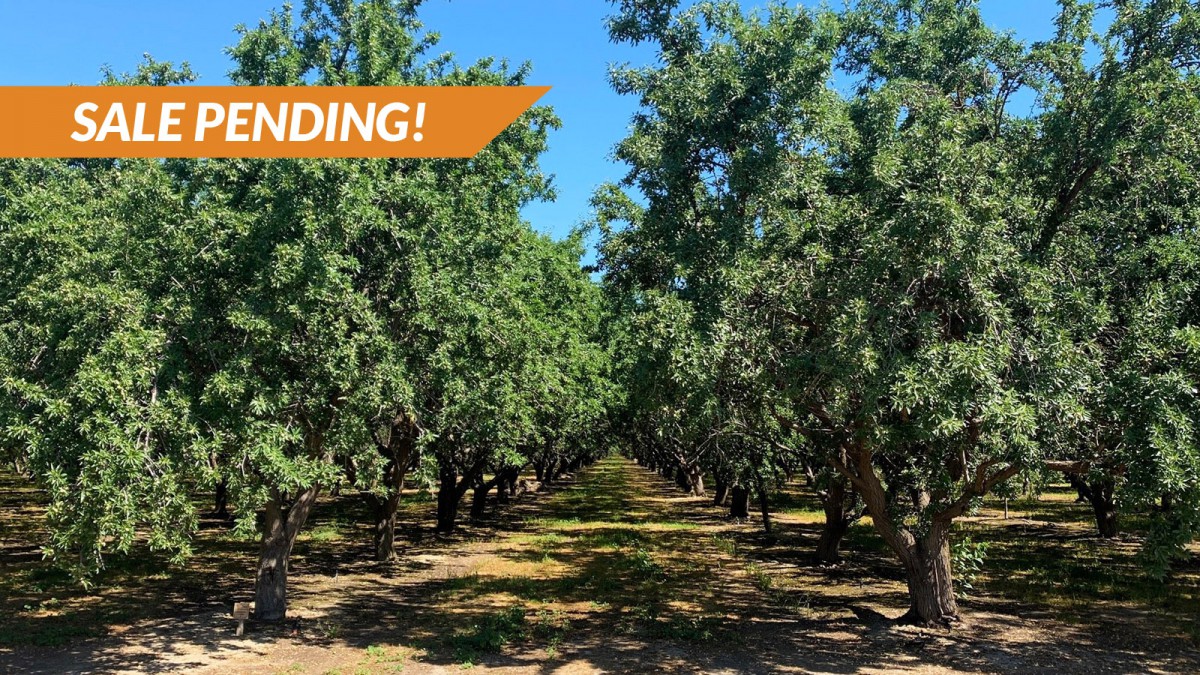 Status: Sale Pending
Acres: 959.54±
Price Per Acre: $15,250
Description
This 959.54± assessed acre opportunity is planted to 919.6± acres of almonds. There is an equipment yard, mobile home, one steel framed shop, and two filter stations enclosed with steel framed metal buildings. There are 6 irrigation wells with 2 reservoirs and filter stations. The property is located in Semi-Tropic Water Storage District and has 6 non-contract turn-outs with 4 pump-back meters. Additional irrigation water can be purchased from the water district when available, though the property does not have contract water. The offering also features predominately grade 1 soils, income, tax benefits and a desirable growing area for almonds & pistachios.
Location
The Southeast corner of Leonard and Hanawalt Avenues. Approximately 2.5± miles northwest of the City of Wasco and 33± miles northwest of the City of Bakersfield. The physical address is 13812 Western Ave, Wasco, CA 93280.
Legal
059-252-01; 059-280-34; 059-280-71
Water
The property is irrigated by 6 active wells and Semi-Tropic WSD non-contract water when available. The wells are equipped with four 300HP electric motors recently converted from natural gas which is available to most well sites, and two natural gas engines indicating 150HP & 200HP on the gear heads. There are 2 out of service wells of unknown condition. The land is located in the Semi-Tropic Water Storage District (STWSD) and has 4 intermittent service non-contract meters (U86, U92, U104 & U116) and 2 Temporary service non-contract meters (26BT & 42BT). The intermittent service meters are set up to pump water back into the district as needed (through U86GW, U92GW, U104GW & U116GW). In 2020 the district water costs are $112/AF starting May 1st and $106/AF starting November 1st. Pursuant to the STWSD intermittent agreement STWSD has the right to use the wells to pump back a balance of 3,480AF (as of 12-31-18) of water into the district when needed at STWSD expense and when the owner is not using the wells. In 2019/20, on behalf of the STWSD the Kern County Tax collector collected a Charge of $139±/acre with the 2019/20 property taxes. The orchard is irrigated by a nicely appointed fan jet system, with 2 reservoirs, sand media filters inside 2 steel framed shops, acid injection system, gypsum silos, and electric booster pumps recently converted from natural gas which is available to each pump station. Additionally, there is a domestic system with a submersible pump for the shop & mobile home area.
Zoning
A (Exclusive Agricultural), and all but 059-280-34 are enrolled in the Williamson Act.